by Whitney Williams
For the reissue of the Ladywolf Vintage blog, I couldn't think of a better trend to start with than the harem pant. I've always been a fan of those who throw a smidgen (
smidgen
being the operative word) of humor into their attire, as I do so myself. When sporting such baggy britches as the harem pant, though, one has to be very careful not to cross into the laugh-at-you and not laugh-with-you realm. The harem pant screams MC Hammer to some, but if you pair them with the right shoes and throw on a simple top with them, it dampens the 'Hammer effect' and becomes something fresh and bewilderingly flattering. Plus, they're so comfortable, you'll want to wear them to bed.
There are three distinct incarnations of the harem pant:
super-low drop crotch capri
full-length slouchy pant with tight cuffs and a pleated waist
extra-baggy hip with tapered leg in full-length, capri or pushed-up cuff
The material for this pant looks best when its a soft, flowing rayon or a lightweight jersey knit. Avoid ultra baggy ones that have an iridescent sheen (you'll look like you're escaping a Genie bottle if you don't). If you want them shiny, the less slouchy, the better. Embrace this comfortable trend while it lasts, ladies. Just be prepared for tons of, "I love your outfit, but I think you're the only one who could pull it off."
I've featured the harem pant frequently at Ladywolf:
The 'Harem' comes in romper form too.
SOLD OUT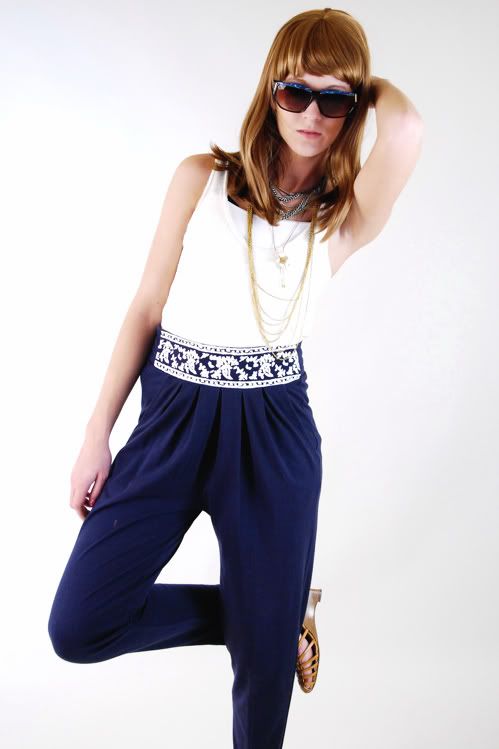 Ladywolf Vintage
SOLD OUT
For more hammertime, go to ladywolfvintage.com